How To Import Amazon Products To WooCommerce: 3 Methods Compared
I have been reading about the topic of drop-shipping and affiliate product sellers and noticed that some people are using Amazon as a source of their products.
So I wondered, how can merchants import Amazon products to WooCommerce for their stores, especially at scale?
Well, here are the results from having looked at what people are doing in this space.
🎖️
In short, you can import Amazon products into WooCommerce either manually through bulk uploading (and adding images after) or by using a plugin designed for this purpose such as Importify.
The details on how to do each of these options are below. Read on.
Option
Pros
Cons
Price
Importify (Recommended)
Supports other marketplaces like Etsy and AliExpress within the same app.
Manually fulfill orders.
Import products one by one.
$14.95 to $37.95 per month
Amazon Product Importer & Affiliate
Yearly license.
Does not support other marketplaces.
Affiliate focused. Shoppers checkout on Amazon.
$79 per year
Spreadr Woocommerce Plugin
Auto-update feature updates availability and prices.
Bulk product importation but you have to search all the IDs first.


Affiliate focused. Shoppers checkout on Amazon.
Users are reporting issues that it doesn't work, or commissions aren't applying.
Cost per imported product.
$6 to $60 per month
Can you import Amazon products to WooCommerce without a plugin?
Sadly, it appears there is no feature inside WooCommerce that will allow you to do this 'natively' (without a plugin) just yet. For now you will have to import use the bulk upload feature and then manually add images for each item.
To bulk upload, you will need to:
Create a CSV file of your product list, using this template from GitHub
Navigate to WooCommerce > Products
Click the Import button
Click Browse and choose the CSV file you just created
Map the fields in the next view, by aligning the field titles with column titles
Click Run the importer
Now you can manually add images for each product.
How to import Amazon products to WooCommerce using plugins
For a longer-term, more scalable method of importing products to your store, plugins are going to be the way. Here are my findings on some of the most popular plugins for this purpose.
Importify is a drop-shipping platform tool like Oberlo, that allows users to tap into multiple marketplaces to source products and list them on their stores for sale.
Importify is a bit different from other platforms in that it includes a product research feature that allows you to review what is selling on Shopify stores to get insights into what products you may want to sell yourself.
Another benefit is that Importify supports importing products from other sites too like AliExpress and Etsy.
How to import products from Amazon:
First, signup for an Importify account. Once you have signed up navigate in your account here to the 'install the app' for your WooCommerce store section and connect your store.
Next, install the Chrome Extension here. This is the extension you will use to trigger product imports.
Finally, search the products you want to import from Amazon to your store and click the orange 'add' button to begin importing the product.
Once clicked, you will be able to select the settings for your product, such as the price, categories and visibility of the product.
Click the blue Add To Store button at the bottom of the screen to complete importing your product.
Now your product will be visible and ready for purchase on your store.
This plugin is very similar to Importify though it doesn't support other marketplaces or research. The basic functions of the app are the same in that you will need to individually find and select each product one-by-one on the Amazon website and trigger an importing sequence through a chrome extention.
To import products:
First, buy and install the plugin from WooCommerce and install your Chrome extension here.
Then navigate to the Products > Importer Configuration page inside WooCommerce.
Now visit a product you want to import into WooCommerce and click the extension button to connect your store and paste your import link + secret key and click connect.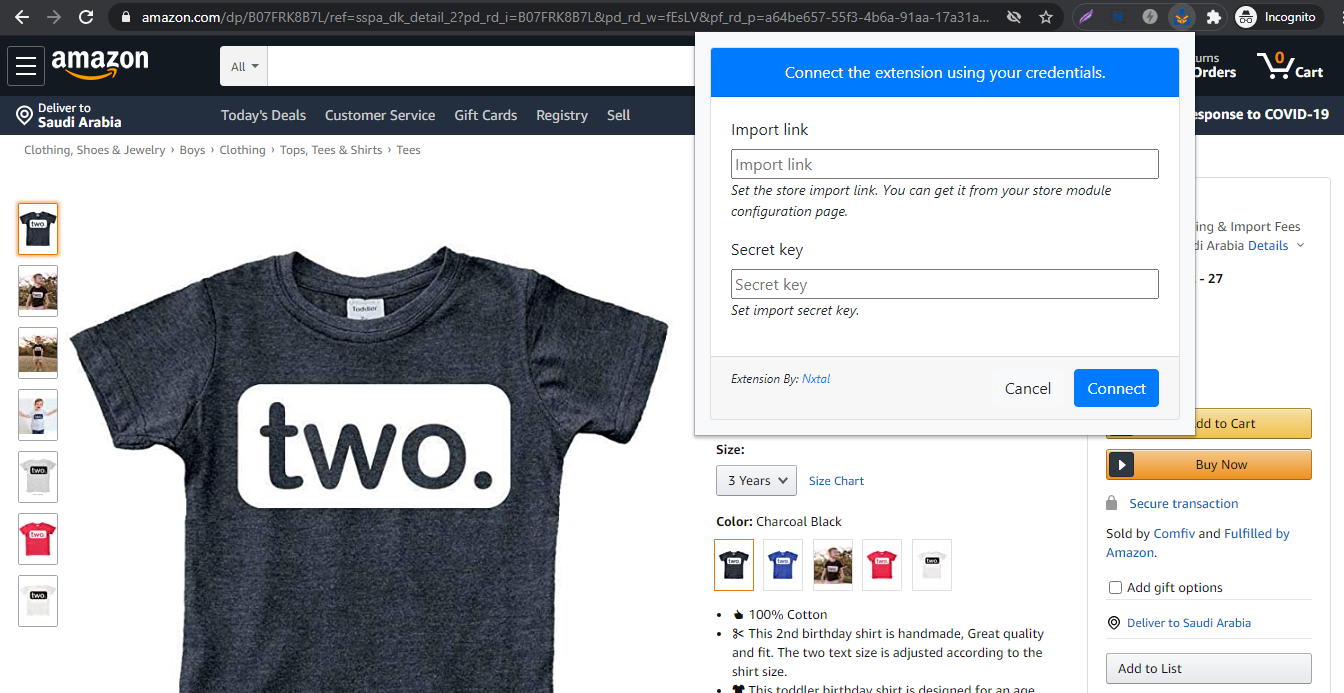 You will be presented with the import options. Select the settings you want and click import now.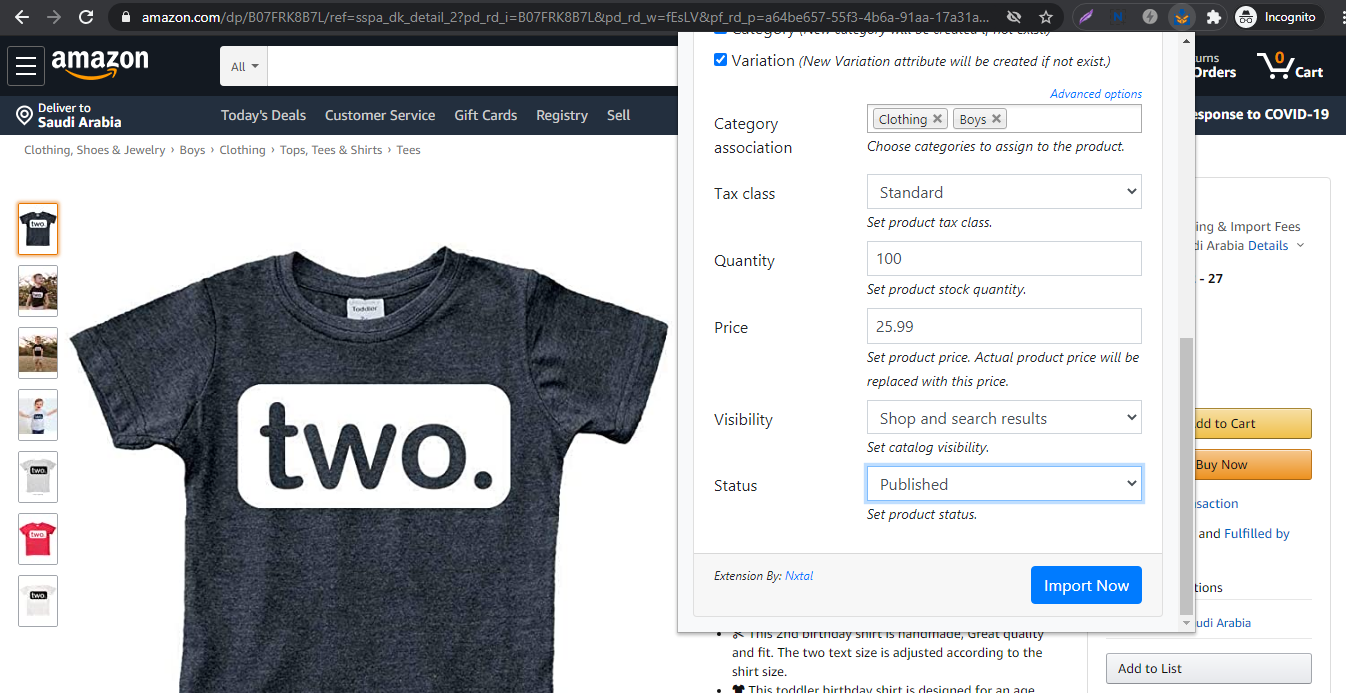 Your product will now be imported to your WooCommerce store and publicly visible if you selected that during the import.
Spreadr is a plugin developed for 3 major platforms, Shopify, BigCommerce and WooCommerce, and includes a bulk import feature.
Reviews are mixed for this plugin, and seem to average about 3/5 stars.
Important Notes:
Users will be shown a 'buy now' button on the front of the website and be taken to Amazon to complete their purchases.
You will need to pay per products imported. Current prices appear to be $1 per 50 products. You are not charged for products that are not imported successfully.
You need a subscription to Spreadr, which starts at $6 to use the plugin, and $12 to have up to 1000 products synced.
To install and bulk import products using Spreadr:
Install the plugin using the steps outlined here.
Create a list of ASIN's (Amazon product Id's) on a CSV for the products you want to bulk import
Once inside WordPress and the plugin is installed, go to Dashboard > Services > Bulk-import
Buy your import credits for the number of products you want to import
Add your AWS credentials
Upload your list of ASINs
Click start import
Download your report and review the results for any importation issues
Conclusion
Overall, Importify looks like the strongest solution as you will have more control over the product pricing and settings once imported. You will be able to collect customer data because users will need to check out on your store.
The main downside with Importify is that it could be tedious to import lots of products one by one. So you may want to consider another option if you are considering adding hundreds or thousands of products to your store.
FAQ
Do I need to update stock levels?
It looks as though most people will need to keep an eye on their products to see if they are out of stock on Amazon. Dynamic stock updates do not look like any plugin supports it.Is there Oberlo for WooCommerce?
Sadly not. It doesn't seem like Oberlo is connecting with WooCommerce right now.